I would love to have written a post on well-designed error messages. The trouble is, I can't think of any I've seen lately. In fact, the idea for this post came recently as I was trying to install Windows updates. When the installation finished, I got the following error message: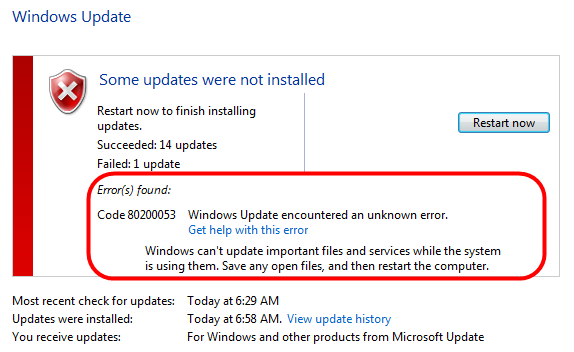 There was the seemingly obligatory error code that means nothing to the user, though presumably it would to a tech support person (although when I worked in tech support for a computer manufacturer, I never remember seeing a list of these error codes and how to resolve them).
However, I was grateful that it wasn't the only indication of the problem—until I read the text. "Windows Update encountered an unknown error." Not too enlightening. It's also not clear if the text below the error code about restarting is related to the error or not. After all, if it is, why is the error unknown?
At least I was encouraged that I could click a link to get help with the error—until I clicked it. This is what appeared:
It seems that with an exact error message, Windows Help should have presented the exact Help document. When it gave me the long list, I scanned over it to find one that matched the error code I got. I couldn't see one. So I gave up trying to get help that way.
Finally, I decided to reboot, and the error message disappeared. As it turned out, nothing failed; the error message was unnecessary. The computer just needed to be restarted, as it often does after updates.
Takeaways: What are the elements of a good error message?
It only appears when there's actually an error.
The error message explains the error or problem clearly, in terms that make sense to the average user.
If an error code is given, the message explains what it means and how it is used (e.g., provided to tech support).
The error message gives concrete action the user can take to fix the problem.
It isn't rocket surgery, as Steve Krug would say. But it does take awareness and caring enough about the user to make it happen.