I once worked at a building where, oddly, the handicapped parking spaces were not in the row closest to the building, but rather in a long strip perpendicular to the building (simplified picture below). The row closest to the building was partly visitor parking spaces, and partly open spaces.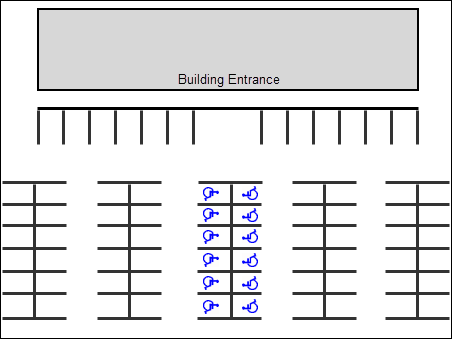 As an employee I didn't give it much thought, and frankly, I was happy on the rare occasions that I got one of the coveted spots close to the door.
That was, until the day my father and I attended a Saturday seminar at the building. My father is in his 80s and walks with a cane. Getting around is slow and physically taxing for him. He had his handicap placard, and we looked for a handicap parking place. But there were no close places, and in fact some of the non-handicap places, although not close, were still actually closer than some handicap spaces!
Seeing the experience through my father's eyes put a whole new spin on it.
I tried to imagine the reasoning of the people who designed the parking lot. Did they justify their choices because handicap spaces near a building's entrance are often empty? Did they think the handicap places were "close enough"? One thing was clear to me: I doubt they had ever accompanied a handicapped person as they tried to find a close parking place on a busy day.
I came away with some much needed-reminders:
Test designs with differently-abled users, and strive for win-win design.
Frequency of use is not synonymous with importance. Even if my father only needed that parking place for a few hours on a Saturday morning, that need was very important for him.
We can't excuse ourselves in failing to address accessibility.
Shortcuts and assumptions compromise user experience.There's no substitute for understanding one's users, and that understanding means putting ourselves in their place.